I am so excited to be a part of the Macdonald Realty firm!
As I've slowly made my way back into the business world, I've spent some time readjusting my schedule, and making time for work. I get inspired knowing I'm a part of a company like this one: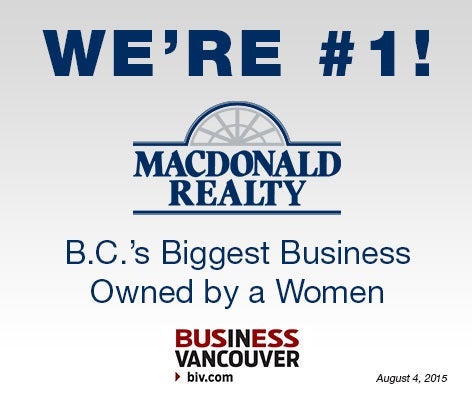 In the August 4, 2015 edition of Business in Vancouver, Macdonald Realty was ranked #1 on their annual list of the biggest B.C. businesses owned by women.  With 930 employees in B.C., Macdonald Realty's Owner, President and CEO Lynn Hsu tops a list that includes
SimpeQ Care
,
TPD
,
Purdys Chocolatier
 and
CEFA Early Learning Schools
 in the Top 5.
Macdonald Realty also ranks 11th on BIV's list of Biggest B.C. organizations managed by women.
Business in Vancouver newspaper is the flagship publication of Business in Vancouver Media Group. Since its creation in 1989, the weekly newspaper has been an essential source of news, features, analysis and data for Vancouver business leaders and influencers. It remains a must-read source of unique, unduplicated business insight.
See the full list at
Business in Vancouver
.